Home > Focus Drive with Integrated Controller
Focus Drive with Integrated Controller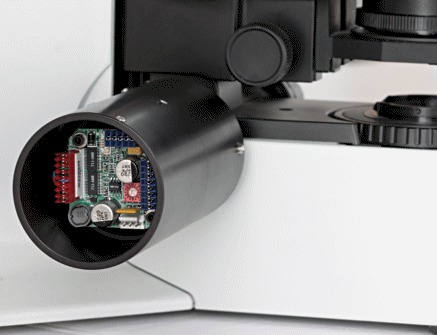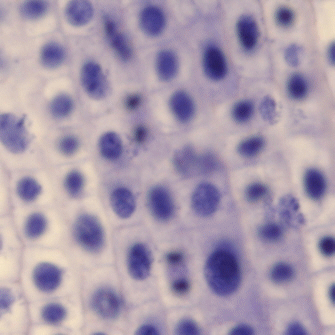 Focus Drive with Integrated Controller is shown with and without the lid.

Z-stack of onion root tip images was acquired on Olympus BX51 microscope with 40X UPlanFL objective using this focus drive and a Canon Digital Rebel camera. Step size 1 μm.
Focus Drive with Integrated Controller is a microscope attachment for compound and stereo microscopes that provides high resolution movement of fine focus and at the same time retains manual movement of fine and coarse focus. The Focus Drive with Integrated Controller consists of a step motor connected directly to the fine focus shaft of the microscope via a flexible coupling, of a motor controller that drives the motor, and of an adapter that fits over the coarse focus knob of the microscope. The use of a high torsion stiffness flexible coupling ensures virtually no backlash in the drive while allowing easy installation by the end user. This Focus Drive does not need any additional control units; it connects directly to the computer serial port via a cable with built-in converter. This innovative design provides cost saving, requires less desk space, and reduces cable clutter. See possible system configurations. The focus drive can be ordered with digital output.
Specifications
Ordering Information
Note: To show microscope-dependent mounting we use the same images as for the focus drives without integrated controller.
Specifications and prices are subject to change without notice. Delivery 4-6 weeks ARO.
(*) for the environmentally sealed version add $200.
In the news:
Laboratory Equipment, August 2007, p.14 "Small Controller Enables Distributed Microscope Automation" and online.
Photonics Spectra, April 2007, Vol. 41, Issue 4, p. 152.
Photonics.com: Tofra, Inc. has introduced a focus drive with an integrated controller for optical microscopes
Laboratorytalk: Microscope focus drive has integrated controller
Labhoo: TOFRA, Inc. Introduces Focus Drive with Integrated Controller
Biophotonics International, May 2007, Vol. 14, No. 5, p. 71.
Medical Design Technology, May 2007, Vol. 11, No. 5, p. 32 and online.
Microscopy Today, May 2007, Vol. 15, No. 3, p. 53.
Bioscience Technology, April 2007, September 2007 p. 40, and online.
R&D, May 2007, Vol. 49, No. 5, p. 40.
Home > Focus Drive with Integrated Controller